The calendar signup site 'datumprikker' (= dutch for pick-a-date) can be used to create sign-up lists for groups also.
Start by entering a title for your list and press Create event:


Next, enter a description, add your name and e-mail address (if you intend to use this site more often, it might be a good idea to register first). I case of a group-based sign-up you might want to tell your visitors that they should enter the name of the group in the comment-box when adding themselves to the list:

Open the options panel, then check the option 'Registration' and type '1' at the 'Per participant' box. Now only one person at the time can subscribe to the list.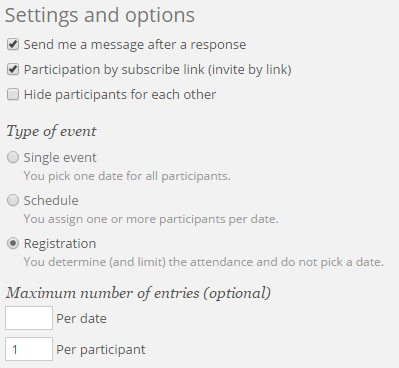 Continue with Next step.
Enter the location. This can be anything, eg. a classroom. Continue with Next step.
Enter the date. In this case, because I am creating the list for the sessions, I enter the timeframe of this session:

The remark: "You will receive the schedule." Continue with Next step.
At the last step you can enter (more) e-mail addresses to send an invitation to. But since you are on the list already, you do not have to enter more addresses. Just press Save and send to finalize the list.
After that you can share the subscription link:
You will also receive a link by e-mail to the sign-up list to distribute it further. In my case I post a link to the list on BlackBoard.